Hope for Australian Species!
Since its inception in 1989, the Currumbin Wildlife Hospital has served thousands and in the past 20 years alone, they have helped over 150,000 animals in need of medical attention, making it one of the busiest animal hospitals in the world.
Set on 27 hectares of lush rainforest and natural eucalyptus-rich bushland in Queensland, the Currumbin Wildlife Hospital is an integral part of The Currumbin Wildlife Sanctuary. The area is now a heritage-listed zoological garden and home to native mammals, reptiles, birdlife, amphibians and some exotic species.
Over the years, Mother Nature has unleashed increasingly regular and severe weather events, including flooding, droughts and bushfires, endangering the survival of some of our rich fauna that makes up our unique, vibrant ecosystems. As wildlife bears the brunt of such events and endures these challenging circumstances, there is often little reprieve for some.
Since the Sanctuary and Hospital opened, they have been able to survive and thrive thanks to widespread enthusiastic local support and the growth of ecotourism. However, funding is needed now more than ever due to the increased number of inpatients and the higher costs of running the facilities. The extensive and costly expenses required to treat such a diverse range of wildlife include the provision of medicine, medical equipment, grounds maintenance, administration staff, food and hospital operating costs, as well as the manpower and resources required to release them back into the wild. In recent years, the average number of animals hospitalised has increased to 14,000 per year, costing on average $120 each, while the typical cost of a koala patient is over $7,000.
Among the
vulnerable animals
at Currumbin Wildlife Hospital, the plight of the Koala, Australia's iconic furry face, is sadly a crisis that requires immediate attention. Within a decade, koala numbers have plummeted at an alarming rate from no listing to vulnerable to endangered in February 2022, with some states reporting a 30% decrease. Unfortunately, the 2020/2021 bushfires affected more than 60,000 of an already vulnerable population. Other factors, such as dog attacks, car accidents and habitat destruction for urban and agricultural development have contributed to their decline. Chlamydia, on the other hand, is the most dangerous threat affecting male, female and infant koala joeys, causing blindness and infertility.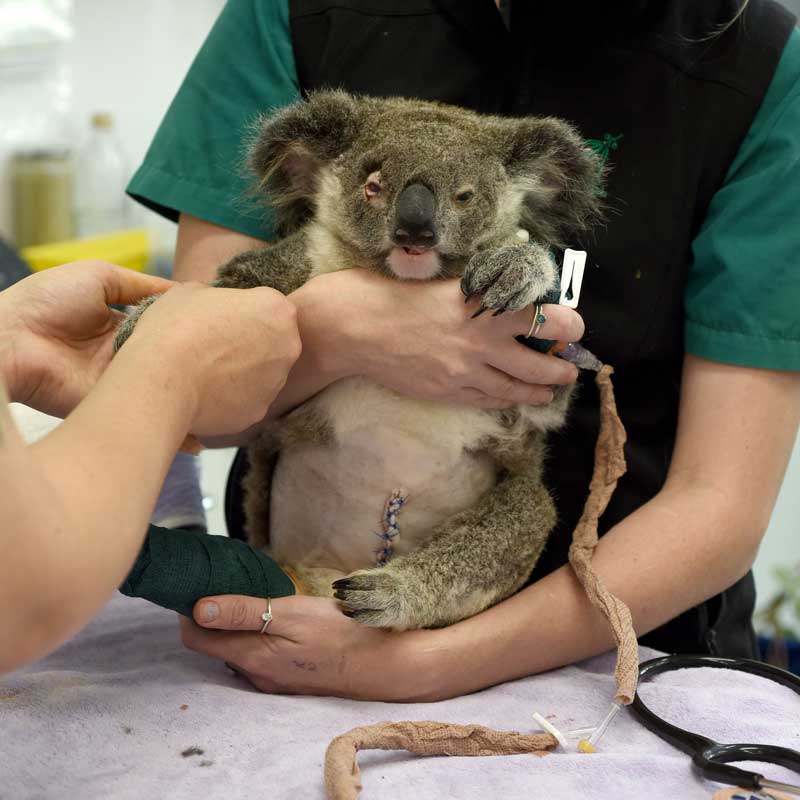 "We should never have allowed things to get to the point where we risk losing a national icon. If we can't protect an iconic species endemic to Australia, what chance do lesser known but no less important species have?"
IFAW Wildlife Campaign Manager Josey Sharrad. 
To help stop the Koala's impending localised extinction, Currumbin Wildlife Hospital Senior Vet Dr Michael Pyne is at the forefront of the Koala Vaccine Research Programme. In the past year, there were almost 500 Koala admissions, 60% of which were due to chlamydia. Given that there were only 27 Koalas admitted in 2008, there is a pressing need for this initiative to be successful given that the numbers are still on the rise. With over 20 years of experience treating sick koalas, the current programme shows promising results, but immunising their population will take time. Sadly, it is a luxury that is no longer on their side.
It takes 1000 gum trees to feed ONE Koala
Koalas are picky eaters, each one has its preferred gum tree species keeping gum cutters and veterinary nurses busy collecting several types of gum leaves daily to feed the fussy, furry creatures. Currumbin Wildlife Sanctuary has four Koala fodder plantations that contain around 38,000 trees. They set up the Tree To Me Programme to meet the demand, allowing the general public to purchase trees.
Rewards4Earth has the solution to raising much-needed funds, enabling the Currumbin Wildlife Hospital to focus its energy on rescuing, treating and releasing more animals back into the wild.
Our patented loyalty rewards programme provides a solution, if not THE solution!
At Rewards4Earth we are very grateful for the hard work the Currumbin Wildlife Hospital does to help, protect and restore our local and national wildlife. For some species, time is no longer a luxury afforded. Help us support the Currumbin Wildlife Hospital by downloading our Supporter App found on the App Store or Google Play. You can help make a difference using our App for your day-to-day shopping to earn Erth Points and contribute to the Currumbin Wildlife Hospital's invaluable work as well as help us to Save the Planet via The Rewards4Earth Foundation when you spend at participating businesses.
Don't delay, download today!