(Chile, Argentina, October 6, 2023) After seven weeks battling the icy, evil waters of the Southern Ocean, Project Zero expedition leader Geoff Wilson and his crew of three have completed the first leg of a two-year environmental sailing and polar odyssey, which will take them from the South Pole to the North Pole, recording the effects of climate change in real time.
The crew arrived in the port city of Southern Chile, Puerto Montt on October 1, having travelled 6621 nautical miles (12,288 kilometres), since departing Southport, Queensland on August 13.
Their mission is to inspire change through carbon-neutral exploration, documenting the true, untold stories about climate change aboard their specially adapted steel-hulled, carbon-neutral boat, Nanook X, powered by solar, hydro and wind power.
The Project Zero crew ended the first of seven legs in Patagonia, where Geoff summed up the past seven weeks in two words – 'angry and grey'. He could also add 'sleepless' and 'stressful' as the four adventurers, who include Geoff's son, 22-year-old videographer Kitale, landed in Argentina with four days to recover, carry out repairs, reprovision, and refuel before setting off again.
Geoff described the first leg as the "single most exhausting and challenging journey he had ever undertaken", with unrelenting seas and the "stress of keeping four souls alive" while in a constant state of sleep deprivation.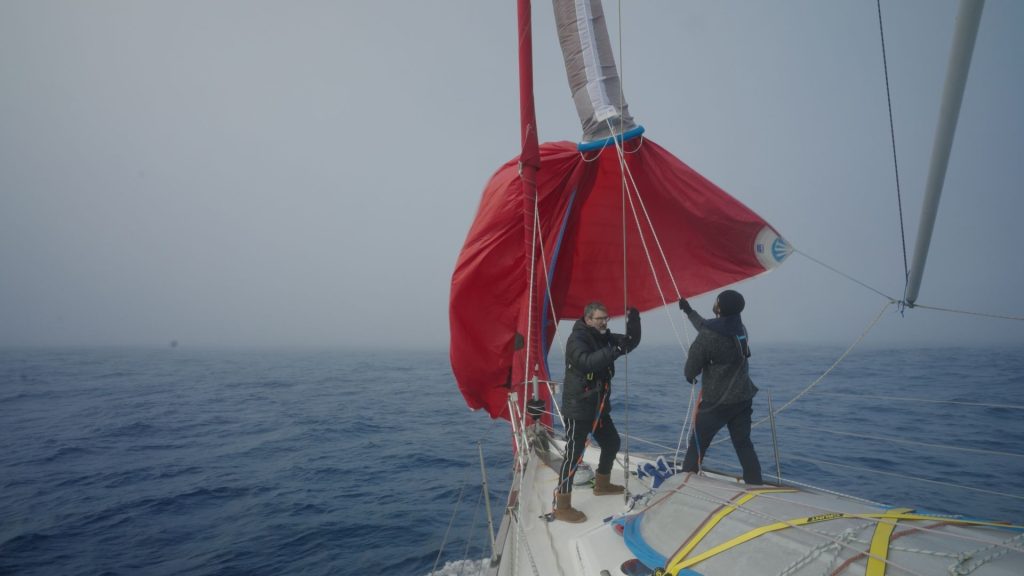 The crew battled five unforgiving storms, as the Nanook 'surfed waves' at 16 knots, at risk of capsizing before deploying a drogue. At times they were being warned to turn back. "My reply was always: 'A bad start doesn't mean a bad end'," says Geoff. He said they wanted to inspire a new wave of adventuring, where "leave only footprints, take only photographs and contribute no carbon" becomes real and possible. Their own carbon production will be recorded and shared on the Project Zero website and later offset by planting trees. As they prepare for the second leg, Geoff admits he never wants to tackle the Southern Ocean again, adding it is an analogy for the 'mad maelstrom' humanity will suffer if we ignore climate warnings. "We can change, and we must." With 12,000 km of open ocean, more than five terabytes of vision, and five ocean tempests behind them, the four are ready for the next leg. "Bring on the fjords," says Geoff. "I'm looking forward to being on solid ground and some time spent solo with my son Kit."
EXPEDITION Leg 2 – Patagonia
Timing: October 7 - 27, 2023
After 50 days at sea, Nanook X and her crew successfully made it to the tip of South America. As they navigated the Strait of Magellan, they were greeted by the Patagonia Ice Cap, the world's second-largest and fastest-receding contiguous extrapolar ice field. Moored within reach of the Pio XI glacier, Dr Geoff Wilson and his son Kitale will disembark and begin a precarious crossing of the Patagonian Ice Cap, moving from Chile to Argentina. They will then return to Nanook X, where they will be reunited with their crew, sailor/drone pilot Jordy Pearson and 1st mate Alistair "Crusty" Burton.
Project Zero is made possible, thanks to the support of the community, supporters and sponsors, including: Australian Geographic Society; Rewards4Earth Foundation (Erth Points); Dometic; Enerdrive; Pivotel Satellite; Rhythm Snowsports; Wild Earth ; Salomon; Arc'teryx; Mammut; Oakley; Le Bent; Merino Country; Stellar Marine; Blackboard Coffee; Sea to Summit, Brookfarm and VetLove.
More about Dr Geoff Wilson AM: Dr Wilson is a veterinary surgeon, founder of 5th Element Expeditions and multiple world record holding adventurer. He is the recipient of the "Lifetime of Adventure" award, Australian Geographic Society's, highest honour, and is recognised in the Australian Museum's "50 Trailblazers" of all time. Earlier this year, he became a Member of the Order of Australia for his services to the community. Dr Wilson holds the record for the longest solo, unsupported polar journey (2019/2020), the first summit of Dome Argus, solo and unsupported (2019/2020), the fastest solo, unsupported crossing of Antarctica (2013/2014), the fastest unsupported crossing of Greenland, south to north (2017), and the first and only wind-assisted crossing of the Sahara Desert (2009). His most recent expedition success was crossing Australia's Simpson Desert using a wind-assisted buggy (2022). He lives in Queensland with his wife of 30 years, Sarah Wilson, and has two other adult children, daughters Java and Jade. He became a grandfather earlier this year.