Elephants are the last of a lineage dating back 60 million years, but their populations have been decimated in one generation.
Sadly, there are about 30,000–50,000 of Asian Elephants left in the wild. With fewer than 1,500 left, both Sumatran and Borneo elephants are in danger of going extinct. Elephants travel long distances, and with the extraordinary rate of rainforests being lost caused by drought, fires, illegal logging and expanding human populations, their future is uncertain.
Elephants migrate over enormous distances in search of food and water. Their migration is crucial in maintaining balance. While consuming a variety of vegetation, they spread seeds in their excrement that encourages the new growth of plants.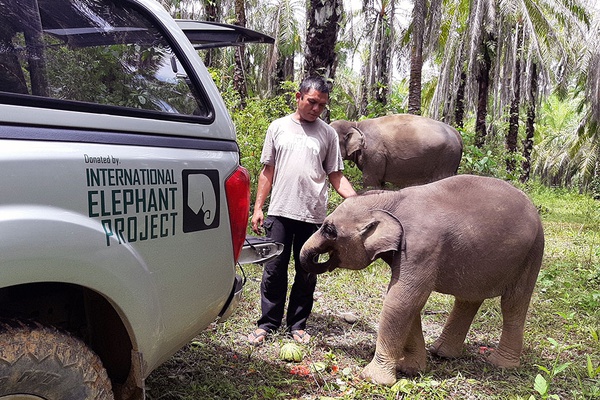 In addition to the endangerment of their food sources, herds, and migration routes, the destruction of their habitat to make way for unsustainable agriculture, plantations, mining, human settlements, and infrastructure also jeopardises the future of this species by causing conflict between humans and elephants at the same time.
Sadly 70% of the time, elephants venture into unprotected areas, often found travelling through human-dominated regions resulting in the damage of crops, property and even human injury and death. Such instances result in retribution, frequently using poison, endangering their species even more.
Elephant populations are also threatened by snares set up in the forested areas they travel through, and also being stolen for their ivory, skin, and flesh. Villagers use these traps to catch deer or wild pigs, but elephants are also caught in them and frequently perish from untreated wounds. These tragic facts are added to by the reality that many elephants are still abused and live miserable lives in captivity because of Asia's unregulated tourism industry.
Family is crucial to how a herd behaves, and when one of these gentle giants is harmed by a human, their social order is disrupted, making them especially more susceptible.
The International Elephant Project (IEP)
The International Elephant Project (IEP) is a not-for-profit initiative for the protection of the rainforest, elephant conservation, and relationships with local communities. The IEP was established to maintain the elephants' complete ecosystem in a holistic manner, which has a positive knock-on effect on many other species battling for their life. This is done in order to safeguard and save the entire ecology and biodiversity of areas shared by elephants.
The goal of the IEP is to carry out true, quantifiable, and efficient elephant conservation in order to guarantee the survival of all elephant species in their natural environment. Their goal is straightforward: to ensure that all elephants exist in stable groups in the wild. However, is it really that easy?
The BKSDA Jambi Wildlife Ambulance Team, supported by the Frankfurt Zoological Society (FZS), providing essential medical care to clean an infected wound
The International Elephant Project (IEP) is supported by the Rewards4Earth Endangered Species Preservation Mandate, and together we are committed to helping safeguard and restore the rapidly dwindling populations of the huge elephants of Asia.
The Rewards4Earth Foundation gave money to the IEP in July 2021. We are pleased with the degree of dedication the IEP demonstrates by making sure our contributions are put to the best use. By reducing their operating expenses, more money may be allocated to safeguarding elephant populations and their environment. We need your assistance as we continue to support the IEP.
We only ask that you register and accrue Erth Loyalty Rewards Points; we do not ask for money.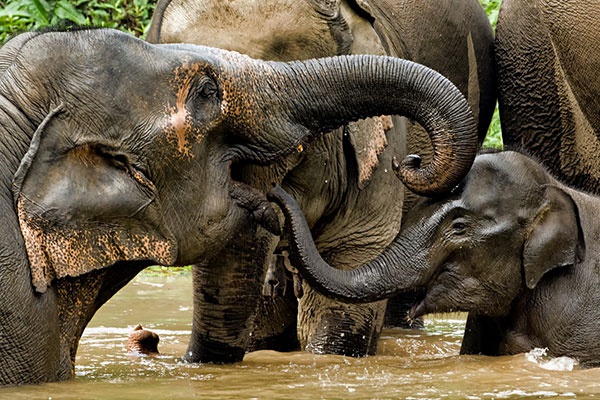 Rewilded elephants safe at last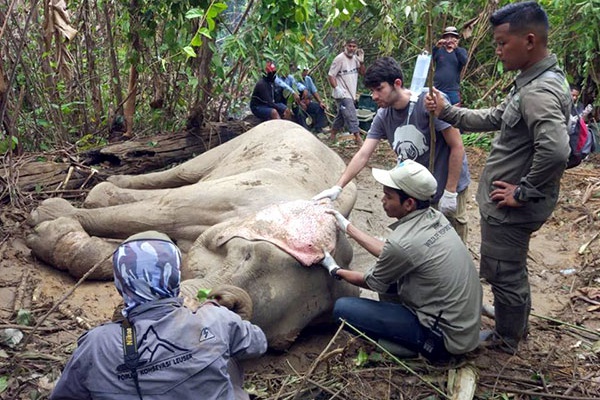 Receiving much needed medical attention from The Wildlife Ambulance Team
How our contributions help:
In order to keep track of and safeguard elephants in the Nam Pouy National Protected Area in Laos and the Bukit Tigapuluh Ecosystem in Sumatra, the IEP runs an elephant adoption programme. With this fantastic programme, you can see firsthand how your donations save elephants.
The IEP has been supporting the Elephant Conservation Centre in Laos which includes the only elephant hospital in the area. Additionally, a significant amount of land that supports natural breeding and socialisation is sourced and protected through this project. The 190,000-hectare environment that is home to both wild and rewilded Laos elephants is protected by ranger teams that are funded by donations.
The Wildlife Ambulance teams are in danger of reducing their efforts or, worse yet, going extinct because of rising levels of poaching and deforestation as well as a decline in donations to their fundraising efforts. Their teams on the ground are made up of veterinarians who not only give injured and displaced elephants in Sumatra life-saving aid, but who also relentlessly labour to educate the following generation of veterinarians. By the end of the year, they will be in need of $50,000 to continue their essential job.
The task ahead is difficult and lengthy if we are to guarantee the survival of these magnificent elephants. Nothing would make Rewards4Earth happier than to support the IEP and offer critical money.
Please click here to contribute to the solution and download the Erth Points App.